Challenge: To bring collaboration and innovation to life in more than 40 unique meeting spaces at The Kingbridge Hotel and Conference Centre in King City, ON Canada.
Solution: Calling on a proven track record of success with Optoma projectors, Walter Guadron, Kingbridge's IT manager, incorporates Optoma ProScene W515T WXGA 6000 lumen DLP projectors into a variety of meeting spaces, allowing innovative thinking and team collaboration to perform to their highest potential.
Results: Optoma ProScene W515T WXGA DLP projectors help accelerate collaboration, ignite creative learning and bring people together.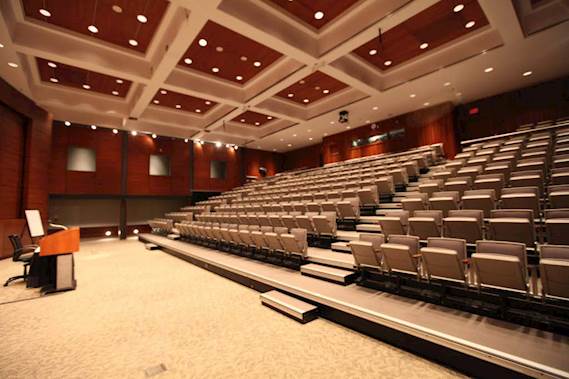 The Challenge
The Kingbridge Conference Centre, located just outside of Toronto, ON, specializes in hosting full-service meetings and conferences in a wide range of innovative learning and meeting spaces. Designed as an immersive environment, the cutting-edge space allows executive leaders and their teams to leverage advanced audio/visual tools in distinct settings to focus on intensely collaborative work and outstanding outcomes. With more than 40 unique meeting spaces and a full IT staff on site, the facility is fully equipped with state-of-the-art built-in audio and visual capabilities. Walter Guadron, Kingbridge's IT manager, understands the wide range of settings needed to suit different meeting and conference requests. He was looking to find a portable professional installation projector that delivered horizontal and vertical lens shift options, without compromising brightness. Due to the large volume of meetings taking place at once, Walter needed a flexible projector that could effortlessly adapt to a variety of situations with quick and easy setup.
The Solution
Walter has a longstanding relationship with Optoma, a world-leading designer and manufacturer of award-winning video and audio products. Calling on a history of positive experiences and a proven track record of success with Optoma projectors, Walter contacted the team again to see if they had a projector that would meet his current set of needs. Talking through potential challenges and solutions, Optoma worked closely with Walter to identify the Optoma ProScene W515T WXGA DLP Projector. Equipped with vertical and horizontal keystone and lens shift, 6000 ANSI lumens and a 1.8x zoom, this flexible professional installation projector offered the advanced features needed to facilitate a quick installation and produce an excellent image from either a short or long throw distance. In addition, Walter's team conducted side-by-side tests with various projectors from different brands to compare features and capabilities, and the W515T was selected as the best projector to meet their needs. "The Optoma ProScene W515T offers the same high-end features of costly interchangeable lens projectors with equal brightness, and gives installers ultimate flexibility," said Brian Soto, Head of Product Management at Optoma.
The Results
Offering the flexibility to adapt to different projection environments, the W515T allowed Walter and the Kingbridge Centre team to combine up to four projectors quickly to blend one seamless, crisp image throughout any conference room. With minimal effort, the team can set the projectors up in different classrooms and meeting rooms, and easily adjust every image to optimize the meeting setting. With 6000 ANSI lumens, the projector performs brilliantly in ambient settings, and the variety of inputs, including HDBaseT and HDMI, provides users with a wide variety of HD connection options to easily display content.